DESIGN
|

REMODEL

|

BUILD

Fox Home Innovations specializes in design, remodeling, and new construction. Take a look at some of our recent work featuring kitchens, bathrooms, living spaces, and commercial spaces.
100-Year-Old House
This rustic old world style kitchen has custom oak trim and vintage styled full ceiling cabinets.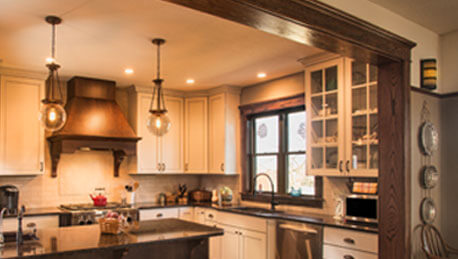 Cased Opening
A covered steel support beam was needed to accommodate the existing 100-year-old structure.
---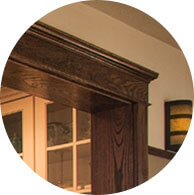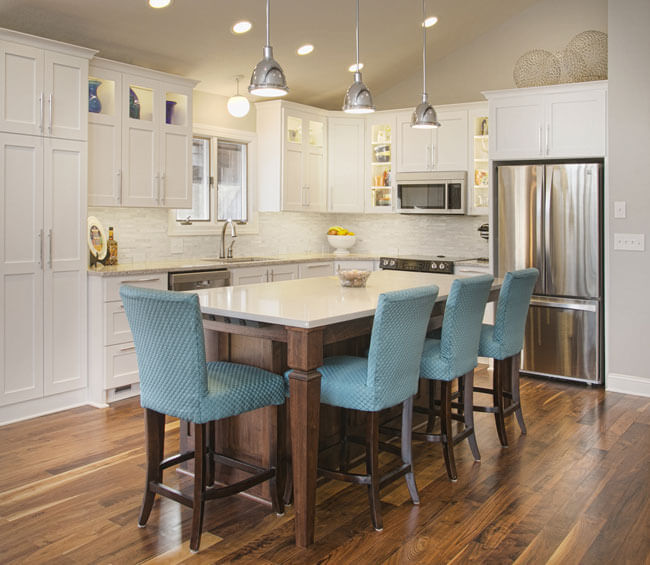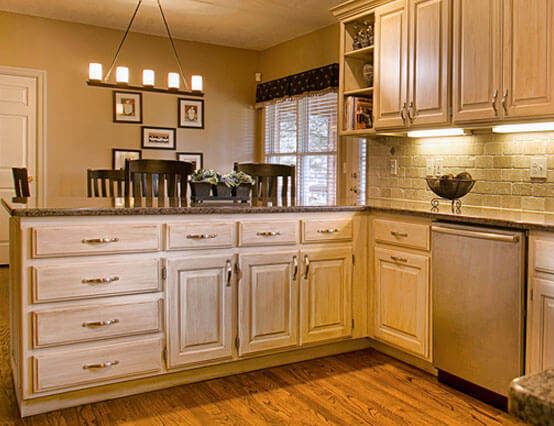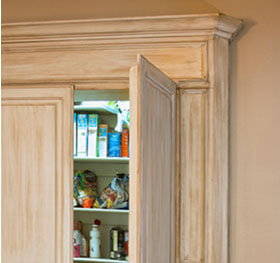 Cabinet Faced Pantry
This custom-made pantry features traditional double doors and was created to match the look and feel of the kitchen's refinished cabinets.
---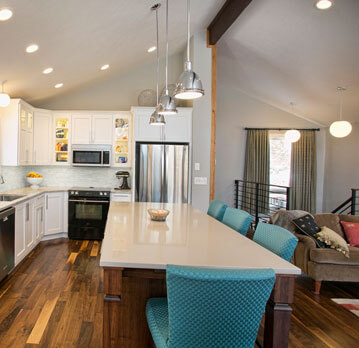 Clean Transitional
This clean design features straight lines and high vaulted ceilings for a fresh modern look. The stained island and walnut floor provides contrast against the simple crisp cabinets and countertops.
---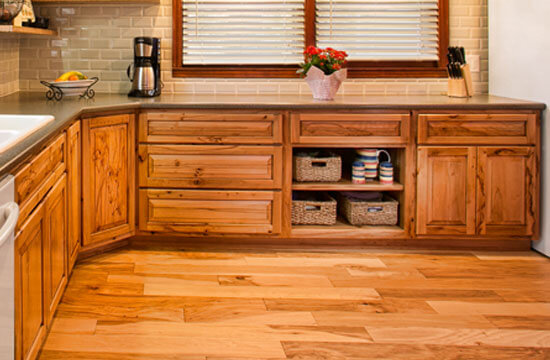 Custom-Made Cabinets
Custom-made soft close native Kansas beechwood cabinets
Custom Kitchens
Whether it's designing a new kitchen or remodeling your current one, we can offer a variety of ideas and styles.
---
Classic Styled Bathroom
Naturally lit with a skylight, this bathroom features white carrara marble throughout, inset cabinets, a custom designed dual headed shower, and subway tile walls.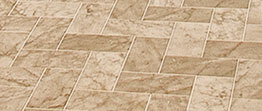 ---
Detail View
Take a closer look at the carrara marble flooring set with a herringbone pattern and toe-kick lighting for added affect.
---
Walk-In Shower
This traditional style bathroom features a walk-in shower complete with a floating bench and four different contrasting shapes and styles of travertine tile. The tile is complemented with a custom inlaid glass mosaic border.
---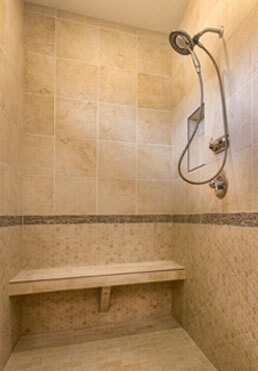 New Construction
This brand new bathroom showcases a Kansas made onyx shower base and countertop with an integrated sink that is durable and affordable. The uniquely shaped free-standing bathtub adds to the clean feel of the space.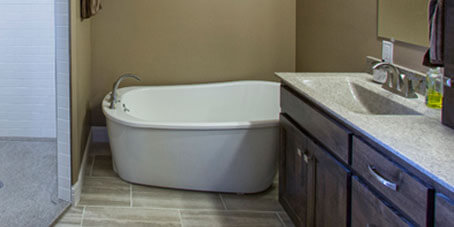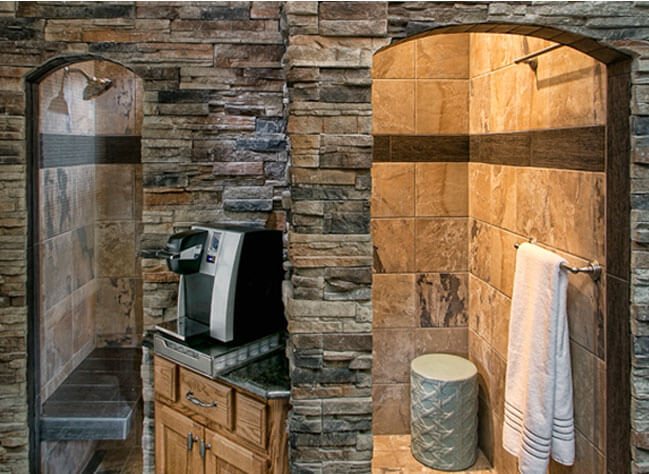 L-Shaped Shower
This natural feeling L-shaped shower features a ledge rock face accompanied with autumn slate floor and wall tile. The L-shape design makes a pocket entry providing a private space. The shower also has a floating bench as well as in-shower lighting. The coffee bar was a custom request and has a waterline running directly to it.
---
Custom Living Spaces
This custom living space features natural ledge rock and a rustic cedar mantle as a main focal point. This open concept design with an adjoining kitchen creates a perfect space for entertaining.
Fireplace
This custom fireplace can be seen both indoors and outdoors and connects to a private patio.
---
Smart Space
This room also embodies hidden surround sound.
---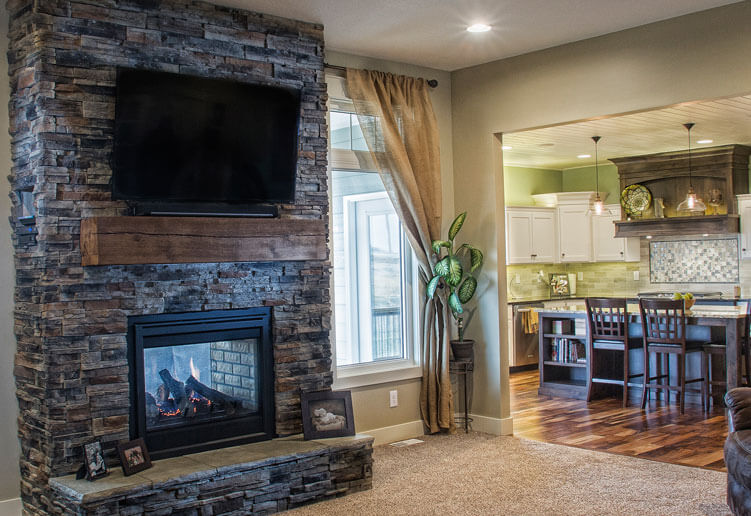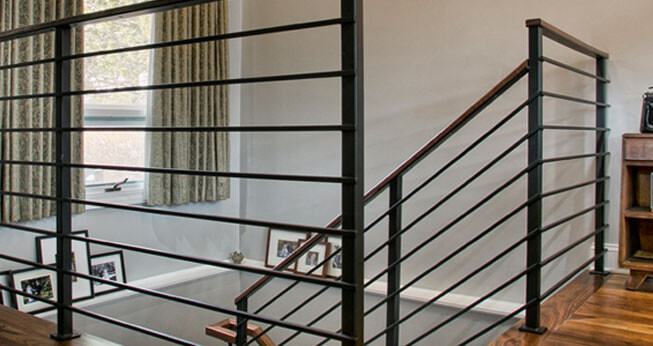 Custom Staircase
This unique stair railing was a custom design, featuring capped steel railing with walnut to complement the flooring.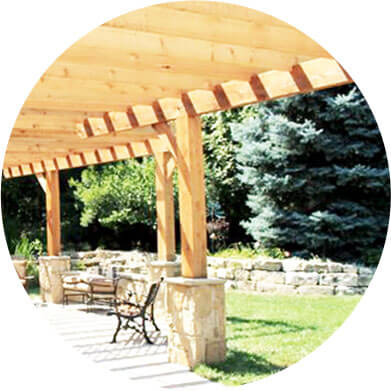 Pergola
This is a 20' x 60' pergola complete with limestone columns and wall.
---
Basement Fireplace
This fireplace was integrated into a basement living space; gas powered, made of limestone and a knotty alder mantle.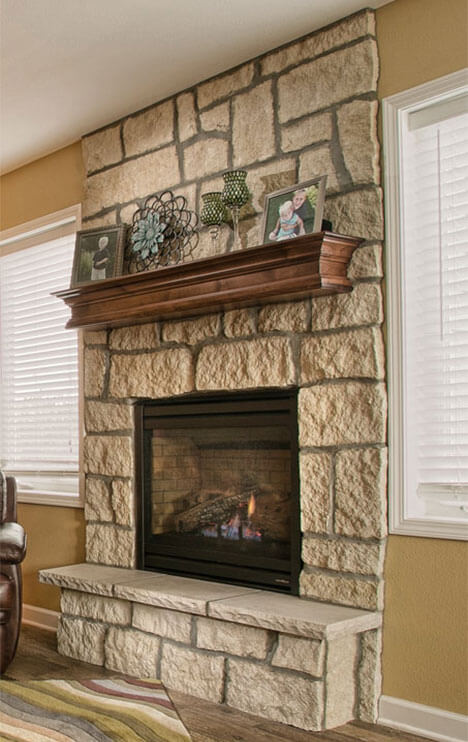 Commercial Work - J & C Imaging
This large open space was a custom design for J & C Imaging's photography studio. Multiple finishes are featured throughout the space to provide multiple backdrops to take unique portraits. The floating box concept featured throughout the office space was designed to showcase portraits done by J & C Imaging.